Happy New Year 2006
Watched King Kong last night. Bah.. so so only. But hey, the Mission Impossible 3 trailer is out. So fast! Last month Tom Cruise still shooting in Shanghai, and now it's already out. Respect those Hollywood crew man!
After I watched the trailer, don't feel anticipate at all. Here's why:
No more John Woo
Phillip Seymour Hoffman? WTF? He's the bad guy?
I'll hurt her. Then I'll kill you infront of her (sien..)
No, don't kill Keri Russell, kill Katie Holmes instead
Aiyah, u all jealous is it?
Then he'll be mad. Really mad
The only thing I look forward in this movie, is him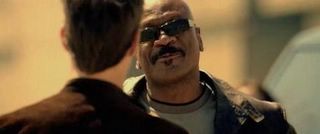 Ving Rhames
This fella damn macho. Remember him in Con Air, Dawn of the Dead, and even Pulp Fiction? But then again, my most anticipate movie of 2006 will be her..
Da Vinci Code. Check out the trailer, it's out
Lastly, season greetings from the Pitts, in year 2018
Happy New Year!