Yeap, in fact I actually got my resort booked from 8th Oct to 15th Oct. Now I'll have to postpone it, obviously. We actually got the voucher for accommodation in Royal Resorts during our 1st visit to Bali last year. It's USD $100 for a week stay. Quite worth it huh?
But after last night's bombing, me and Mae really worry about something. Not that our vacation has been screwed up, but rather we worry that how well can the Balinese recover again this time.
U see, the Balinese is the most friendly people around, and they really worked hard to make Bali alive again, after the 1st attack almost exactly 3 years ago. I really pray that the people and economy will get back to normal a.s.a.p.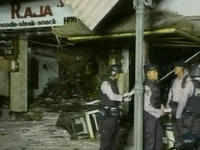 One of the bombed scene in last night's attack
The scary thing is we actually been to the places that were bombed last night. The Matahari shopping complex, KFC restaurant in Kuta, and 2 other packed restaurant in Jimbaran.. we were there! And one week before we go there again, they've been bombed! And gone! Jesus Christ!
Victim of bombings
Will they ever leave Bali alone? You tell me.