It's final. Brosnan quits 007. Daniel Craig is taking over. I mean, Daniel who?
OK OK, he's the son of Paul Newman in the movie Road to Perdition. So what? He doesn't look manly enough to me. More like a sick pervert.
I still think Brosnan is perfect for the role. He's manly and sexy. What a waste!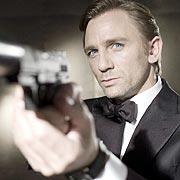 Bond, James Bond
Doesn't look and sound familiar, does it?