Tess and Kimi?
Tess Smith in her nose-bleeding ultimate sexy outfits, during the Emmy Awards recently. Oh.. how I wish the same dress on
Adriana Lima.
My heart would collapse for sure ;)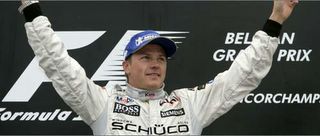 Kimi Raikkonen. Well, Tess made the impossible to be possible. So I hope you'll achieve the impossible tonight as well. I mean, Alonso is a cool and lucky driver, but Kimi is much cooler and faster driver. God bless you Kimi.
Too bad I won't be watching the GP live tonight as the live feed starts at 2:45am here. Will somebody kind enough to let me know the result asap?